A Christmas pudding is a desert traditionally served in Christmas day. The Christmas pudding originated in England and has developed over time.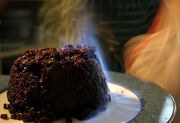 A Christmas pudding is a steamed pudding containing dreid fruits and nuts, as well as spices. Some puddings are moistened with brandy (or other alcohol) and many often also contain suet. A Christmas pudding is round and very dark brown in colour, regularly topped with holly. A Christmas pudding can be kept for a long time and are often prepared months in advance. Some families have a tradition of making their Christmas pudding the year before. Many families have their own recipe for Christmas pudding, passed down through generations; however, it is now possible to buy a Christmas pudding from a supermarket.
Traditions
Edit
There are many old traditions involving Christmas puddings. Some of these include:
Set a Christmas pudding alight with brandy by pouring the liquid over the pudding and lighting with a match.
Add a small silver coin to the mixture. It was believed that a silver coin would bring wwealth to the family.
Every member of the family stirs the pudding mixture, while making a wish.
Ad blocker interference detected!
Wikia is a free-to-use site that makes money from advertising. We have a modified experience for viewers using ad blockers

Wikia is not accessible if you've made further modifications. Remove the custom ad blocker rule(s) and the page will load as expected.