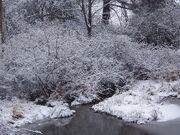 December
is the twelfth and last month of the year in the Gregorian Calendar and one of seven Gregorian months with the length of 31 days. In Latin, decem means ten. December was also the tenth month in the Roman calendar until a monthless winter period was divided between
January
and
February
. December's flower is the narcissus or
holly
. December's birthstones are turquoise, lapis lazuli, zircon, topaz (blue), or tanzanite. December is the month with the shortest daylight hours of the year in the Northern Hemisphere and the longest daylight hours of the year in the Southern Hemisphere. December starts on the same day of the week as September.
Ad blocker interference detected!
Wikia is a free-to-use site that makes money from advertising. We have a modified experience for viewers using ad blockers

Wikia is not accessible if you've made further modifications. Remove the custom ad blocker rule(s) and the page will load as expected.