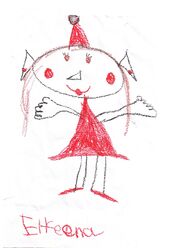 Elfeena Is a small elf in charge of the wrapping paper. She wears a red dress with a red hat. Elfeena is sneaky and rides with Santa on the sleigh, LOOK OUT FOR HER! When Elfeena comes over, be sure to write her a note, she will get back to you! She only comes when Santa comes, you better go to sleep or else they won't come. Not many people heard of Elfeena. She is not that popular. Leave some cookies for Elfeena Christmas night
Ad blocker interference detected!
Wikia is a free-to-use site that makes money from advertising. We have a modified experience for viewers using ad blockers

Wikia is not accessible if you've made further modifications. Remove the custom ad blocker rule(s) and the page will load as expected.