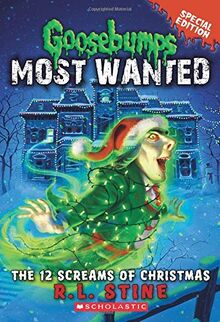 The 12 Screams of Christmas is the second Christmas themed Goosebumps book by R.L. Stine, published in October 2014.
Kate Welles just wants the lead role in her school's Christmas play. Her annoying "friend" Courtney is constantly getting in the way of that. But Kate has to get along with her or else neither of them will be allowed to take part in the production of, "The 12 Screams of Christmas".
Even worse, Kate and Courtney's teacher decides that they need to find a special place to rehearse. A certain house with a lot of history. The kind of place that Kate would normally be pretty frightened to go into. The kind of place that gives new meaning to the term, "Christmas Spirit".
The title is a spoof of the song, "The 12 Days of Christmas".
Ad blocker interference detected!
Wikia is a free-to-use site that makes money from advertising. We have a modified experience for viewers using ad blockers

Wikia is not accessible if you've made further modifications. Remove the custom ad blocker rule(s) and the page will load as expected.