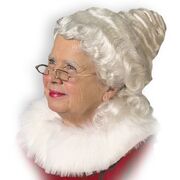 Mrs. Claus
 (or
Mary Christmas
)  is, simply, Santa's wife.
Appearance
Edit
She is usually portrayed as a large, friendly woman who helps Santa by tidying up and doing other odd jobs around the North Pole.Mrs. Claus is of course Santa Claus's wife who helps him and mainly does the housework around the North Pole. Mrs. Claus bakes cookies and sweets for Santa in order to keep him looking like his jolly self. She mainly works in the kitchen, but she also helps Santa with other things like helping the elves or reading the mail to her husband. Mrs. Claus's name was thought to be Jessica as told in the Story of Santa Claus and Santa Claus is Coming to Town.
See Also
Edit
Ad blocker interference detected!
Wikia is a free-to-use site that makes money from advertising. We have a modified experience for viewers using ad blockers

Wikia is not accessible if you've made further modifications. Remove the custom ad blocker rule(s) and the page will load as expected.